History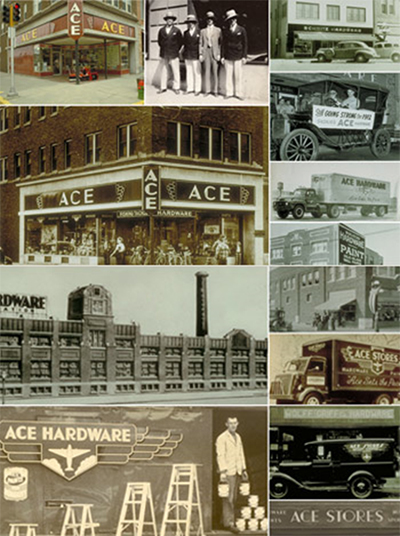 Ace Starts Small, Then Goes Big and International
Founded in Chicago in 1924 by five independent hardware store owners over ninety years ago, Richard Hesse, E. Gunnard Lindquist, Frank Burke, Oscar Fischer and William Stauber made the bold decision to unite their hardware businesses to increase their collective buying power in the industry. From its humble beginning, Ace Hardware has now grown into the industry's largest hardware cooperative on the planet.
Ace Goes Global
Ace International, a separate division within Ace Hardware Corporation, was formed in 1990. While Ace Hardware already had a stake in international markets beginning in 1968, the creation of this division was implemented to further enable Ace's growth and to support the growing number of international retailers.
The following is a timeline of key AIH events after 1990 when becoming a separate division:
1990: Ace creates a separate division, known as Ace International, to manage the growing demand for its brand and products outside the USA. The added focus and infrastructure drives international development of the Ace brand for the next 20 years with Ace establishing a presence in Asia, the Caribbean, Latin America, and Middle East regions.
1996: Ace expands into Asia with the signing of agreements in the Philippines and Indonesia.
2006: Ace becomes the first company in the home improvement industry to open a global distribution warehouse in Shanghai, China.
2011: Ace re-launches the international business with renewed emphasis on global sourcing and regional distribution and opens regional distribution centers in Dubai, United Arab Emirates and Panama City, Panama to service its growing retailer network.
2012 to Present: Ace International signs new License Agreements in the following markets: Afghanistan, Bahrain, Canada, Egypt, Iraq, Israel, Colombia, Paraguay, and Puerto Rico.